Get Deep Tissue Laser Therapy for Pain Relief
Get Deep Tissue Laser Therapy for Pain Relief
Written By Moss Chiropractic of Inverness on August 2, 2021
---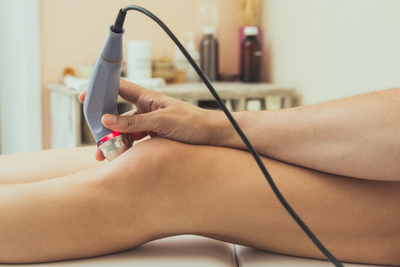 The FDA has cleared deep tissue laser therapy for relieving pain and stiffness in the muscles and joints, arthritis pain, and muscle spasms. It can also increase circulation and muscle relaxation. It's endorsed by the World Health Organization, the American Physical Therapy Association, and the International Association for the Study of Pain.
Laser therapy endorsed by the World Health Organization, the American Physical Therapy Association, and the Internation Association for the Study of Pain.
We at Moss Chiropractic of Inverness utilized the Class IV laser to help patients get pain relief from various musculoskeletal pains and injuries. If you're suffering from chronic pain, then chances are you're an ideal candidate for laser therapy.
Laser Therapy and Pain
Laser therapy is a non-surgical, non-invasive procedure that's well suited for patients seeking pain relief without having to resort to drugs. It's shown to reduce inflammation at the cellular level, increase range of motion and stimulate regenerative activity.
Physiologic effects include improved metabolism, circulation and tissue healing. It tackles pain by reducing inflammation, swelling and bleeding while reducing oxidative stress on cells.
Over 4,000 studies demonstrate the positive effects of laser therapy, treating:
Sprains and strains
Post-surgical pain
Whiplash injury
Arthritis
Neck and back pain
Fibromyalgia
Migraine
Frozen shoulder
And a whole lot more
The Class IV Difference
Unlike Class III, Class IV produces heat. It penetrates deeper and efficiently stimulates the production of cellular energy called ATP, which speeds up the healing process. The less time an injury spends stiff and swollen, the better.
The Class IV laser we use at our clinic is also shown to improve nerve regeneration and function, boost cell activity (means more energy for you), boost collagen production, and help regrow new blood vessels.
Patients who have received this non-invasive treatment report feeling no pain during the procedure. They also have seen positive results, like decreased pain and less inflammation. While some feel immediate relief, it often takes several sessions before seeing real, lasting results.
Get Effective Laser Therapy in Inverness
Dr. Brett Moss is a conservative doctor. A large portion of his job is to keep his patients OUT of surgery and OFF medications if possible. If we can restore your health and vitality; if we can help you to live a pain free life naturally, that's what we do. Being conservative does NOT mean he doesn't x-ray patients and order MRIs when necessary. He believes in a 'High Tech, High Touch' way of practice. There is wisdom in the old and brilliance in the new.
Have questions or need to schedule an appointment? Call Moss Chiropractic at (352) 419-6548 or go online and fill out our contact form.

Posted In: Chiropractic Laser Therapy