The Benefits of Knee Rejuvenation Therapy
The Benefits of Knee Rejuvenation Therapy
Written By Moss Chiropractic of Inverness on September 2, 2021
---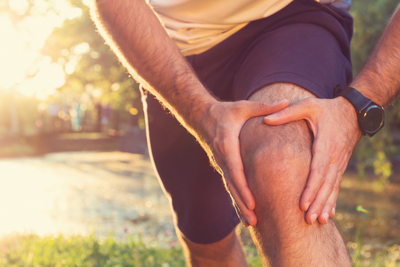 Easily 100 million Americans suffer from chronic knee pain. Knee replacement surgeries are on the rise but satisfaction with results aren't rising anywhere near as fast. Does this mean you're just going to have to deal with knee pain for the rest of your life?
Absolutely not.
Moss Chiropractic of Inverness utilized the Knee on Trac technology to accomplish two things: 1) prevent knee pain from getting worse, and 2) aid in correcting conditions that created the knee problem. You don't have to let your knee pain get worse to the point you can't move anymore, and you significantly increase your chances of avoiding surgery with this therapy.
How Knee Rejuvenation Therapy Works
Our Knee on Trac works efficiently in five-minute therapy sessions using both static and intermittent traction, meaning it carefully works to relax muscles, improve range of motion, increase blood flow, and relieve pressure on the knee.
Axial decompression traction is a form of stretching that is designed to improve knee flexibility and mobility. It is incredibly comfortable and over 95% effective at reducing pain and increasing mobility. This provides pain relief by increasing fluid in and around the knee that acts as a cushion for your bones. Intermittent traction is measured motions that aim to improve circulation, blood flow, and reduce swelling. This can provide pain relief and promote healing.
We also use our Class IV Laser which creates new blood flow into the damaged areas, reduces inflammation, and pain. Deep Tissue Laser Therapy stimulates regenerative activity at the cellular level. Low level lasers are able to penetrate skin deep enough and restore abnormal cellular function.
Nutrition is always a concern so we utilize a cutting-edge nutraceutical to help your body to heal and support the laser therapy. Even with a proper diet this nutraceutical is essential for the deep healing required.
Cutting edge targeted PEMF is utilized to help optimize the blood flow through the damaged areas. The electronic signal is used to 'tune' the nerve, helping rebuild the normal nerve activity in the area.

Knee rejuvenation therapy is designed to help you alleviate knee pain while also helping the body to heal the damage caused by:
Chronic knee injuries
Meniscus tears
Osteoarthritis
ACL/PCL/MCL injuries
Failed surgery attempts
Sports Injuries
And more
Get Knee Pain Relief in Inverness
Dr. Brett Moss is a conservative doctor. A large portion of his job is to keep his patients OUT of surgery and OFF medications if possible. If we can restore your health and vitality; if we can help you to live a pain free life naturally, that's what we do. Being conservative does NOT mean he doesn't x-ray patients and order MRIs when necessary. He believes in a 'High Tech, High Touch' way of practice. There is wisdom in the old and brilliance in the new.
Have questions or need to schedule an appointment? Call Moss Chiropractic at (352) 419-6548 or go online and fill out our contact form.

Posted In: Chiropractic Knee Rejuvenation Therapy